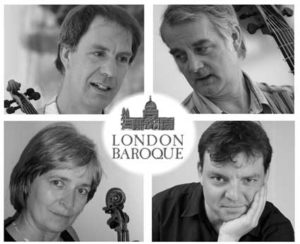 I
ngrid Seifert & Richard Gwilt –

Violin
Charles Medlam –

Cello & Viola da Gamba
Steven Devine –

Harpsichord & Organ
Formed over thirty years ago in 1978, London Baroque enjoys the position of being one of the most experienced and long-lived baroque chamber groups around. London Baroque, regarded worldwide as one of the foremost exponents of baroque chamber music, remains loved and appreciated by audiences as much today as twenty years ago.
"We are used to the high standard of these players. The tireless variation of phrasing and dynamics of the individual parts, the perfectly coordinated agogic detail together with the highly imaginative approach lead to wonderfully lively music-making", (Aug 2001) "… the performances were immaculately controlled, at all times a delight to the ear — supple, flexible playing which touched the heights of virtuosity and the depths of emotion" (Financial Times, 1980)
London Baroque continues to give vital and enriching performances with all the technical perfection and musical maturity their public has come to expect. They have performed in most of the major European festivals, appeared frequently on TV and radio the world over, and tour regularly in Japan and the USA. Their repertoire spans a period from the end of the sixteenth century up to Mozart and Haydn with works of virtually unknown composers next to familiar masterpieces of the baroque and early classical eras.
London Baroque has performed at the Salzburg, Edinburgh, Bath, Beaune, Innsbruck, Utrecht, York Festivals, and the Stuttgart, Ansbach and Lausanne Bach festivals.
Recording now for BIS (after a long and fruitful collaboration with Harmonia Mundi France) London Baroque's recent releases have received great critical acclaim; "Sympathetic and alert… with some finely poetic playing. These performances seem to me model." (Gramophone, Sept 2001) and "They have never made a better disc and neither have I heard a superior performance of any Handel trio sonata." (Goldberg, July 2001) — both of their disc with Emma Kirkby of Handel sacred cantatas.
And of their release of Vivaldi Op. 1 trio sonatas; "London Baroque bring their customary virtues to these performances, including excellent internal rapport and blend, a richly mined string tone, passion and intensity." (Gramophone, March 2001)
London Baroque has appeared on television in England, France, Germany, Belgium, Austria, Holland, Spain, Sweden, Poland, Brazil, Estonia, Hungary and Japan.